Sage Condominiums: Phase II
The construction of the new Sage Condominium required a shoring system that could facilitate the 10 meter foundation depth while working within encroachment restrictions. RWH Engineering Inc. (RWH), an HC Group company, was responsible for the design and provided precision monitoring throughout the duration of the project.
This project was innovatively designed to meet the needs of the owner. Despite the deep excavation and high building surcharge, RWH created an efficient shoring system that utilized only one level of pipe rakers. The use of bypass shotcrete over a caisson wall system advanced the project schedule as vertical drilling time was significantly reduced, allowing excavation to begin sooner. Shotcrete lagging has a smaller environmental footprint than timber lagging and eliminates the issue of wood rot next to existing buildings.
Client: IN8 Developments
Location: Waterloo, Ontario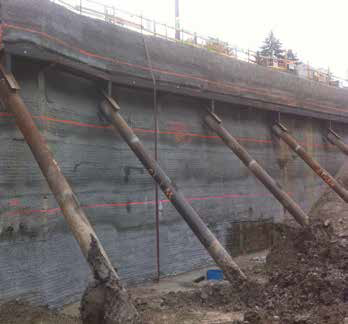 The innovative design along with proactive construction management by HCM was the key to meeting project milestones. The small site coupled with the large structural members required well planned material deliveries, site organization, and crew management.
The ability to work together to meet special requirements on any project is a strength of the HCM/RWH team.