"Shotcrete" is a term that is used to describe concrete that is pneumatically projected at high velocity onto a surface.
HCM's skilled shotcrete placement crews including ACI certified nozzlemen provide a concrete alternative that is equal to or superior to conventional formed wall construction.
Shotcrete is typically classified into two categories:
Wet mix process: concrete is batched, delivered to site, and pumped to the shotcrete nozzle where compressed air is added to the flowing material just prior to shooting. Useful in blind wall applications, structural liners (silos, tanks, tunnels) & in architectural concrete.
Dry mix process: concrete ingredients excluding water are mixed and delivered to the shotcrete nozzle using compressed air. Water is added to the dry materials at the nozzle, just prior to shooting. Useful within areas of concentration such as restoration or rehabilitation of existing structures by enhancing durability and increasing service life.
Nozzle Finish
(typical of shoring applications)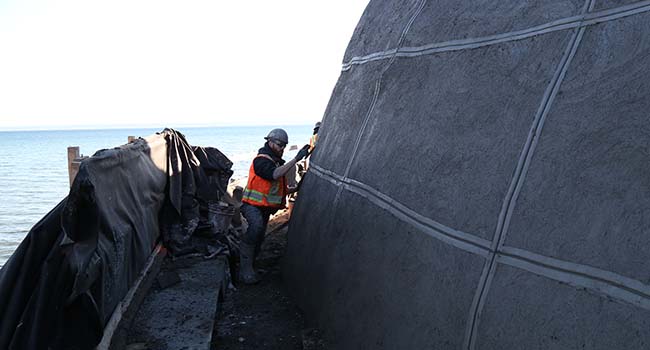 Architectural Finish
(textured as per request)
Smooth Steel Troweled Finish
(typical of structural shotcrete applications)
Bypass shotcrete is an excavation support system innovated & refined by HC Matcon.
This system consists of piles installed in vertically drilled holes with shotcrete across the bays instead of traditional lumber lagging. Steel piles are installed at regular intervals and shotcrete is installed in lifts between piles to retain the soils behind the excavation and transfer the loads to the piles. The piles are embedded below the depth of excavation to provide the necessary passive resistance. Like traditional shoring systems, piles can be cantilevered or braced with walers, rakers, struts and/or tiebacks. Working closely with a talented team of engineers HC Matcon worked to develop the by-pass shotcrete shoring system through the Scientific Research and Experimental Development (SR&ED) program. In addition to finite element modeling, an empirical design approach was taken, and extensive field testing was completed to prove the structural adequacy of the connection. The result was a mesh and clip connection exclusively implemented by HC Matcon.
Read the entire article here – Download the pdf
Advantages of bypass shotcrete systems:

Cost effective shoring solution with less labour and material requirements.
Eliminates voiding behind the shoring as shotcrete is shot directly onto the soil face.
Can be used next to existing structures replacing traditional caisson wall systems.
Excavation activities can be expedited as vertical drilling requirements are significantly reduced in comparison to a caisson wall.