The Metrolinx Weston Tunnel project will serve as a below grade rail corridor for the GO Georgetown line linking the airport to downtown Toronto. HCM was subcontracted by KO Constructors to design, supply, and install several shoring systems as well as deep foundations.  
The project scope consisted of two shoring walls spanning a total distance of 2.6 km, ranging from 4.5 to 14 meters in depth. The shoring walls consisted of both bypass shotcrete and caisson wall to provide railway protection and allow for continuous GO train service. Precise coordination between all parties was required when drilling as close as 100 mm to the operational tracks.
HCM worked closely with the general contractor and owner to meet strict scheduling goals. HCM employed up to 5 large diameter drill rigs at one time, performed night work, and readily adapted to changes in the shoring scope to allow for early excavation and structure installation. RWH Engineering Inc. (RWH), an HC Group company, performed the precision monitoring on the project and was also involved in the design process, enabling accelerated design changes.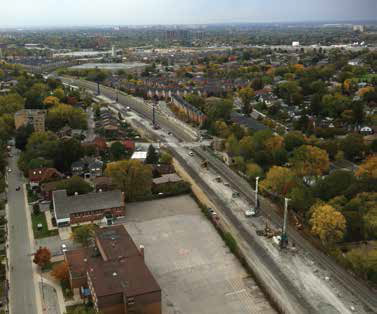 The Weston Tunnel project is an example of the service HCM and RWH can provide to a large scale project where schedule goals are important.  The HC Group is able to develop solutions and adapt to any changes in conditions allowing the project to progress without delays.
Client: KO Constructors
Location: Toronto, Ontario